BEESTRO – Bringing home NutriBee's buzz
NutriBee equips youth to be nutrition leaders at home. Have a look at some of the ways NutriBee reaches America's families with a sampling of NutriBee's homework folder.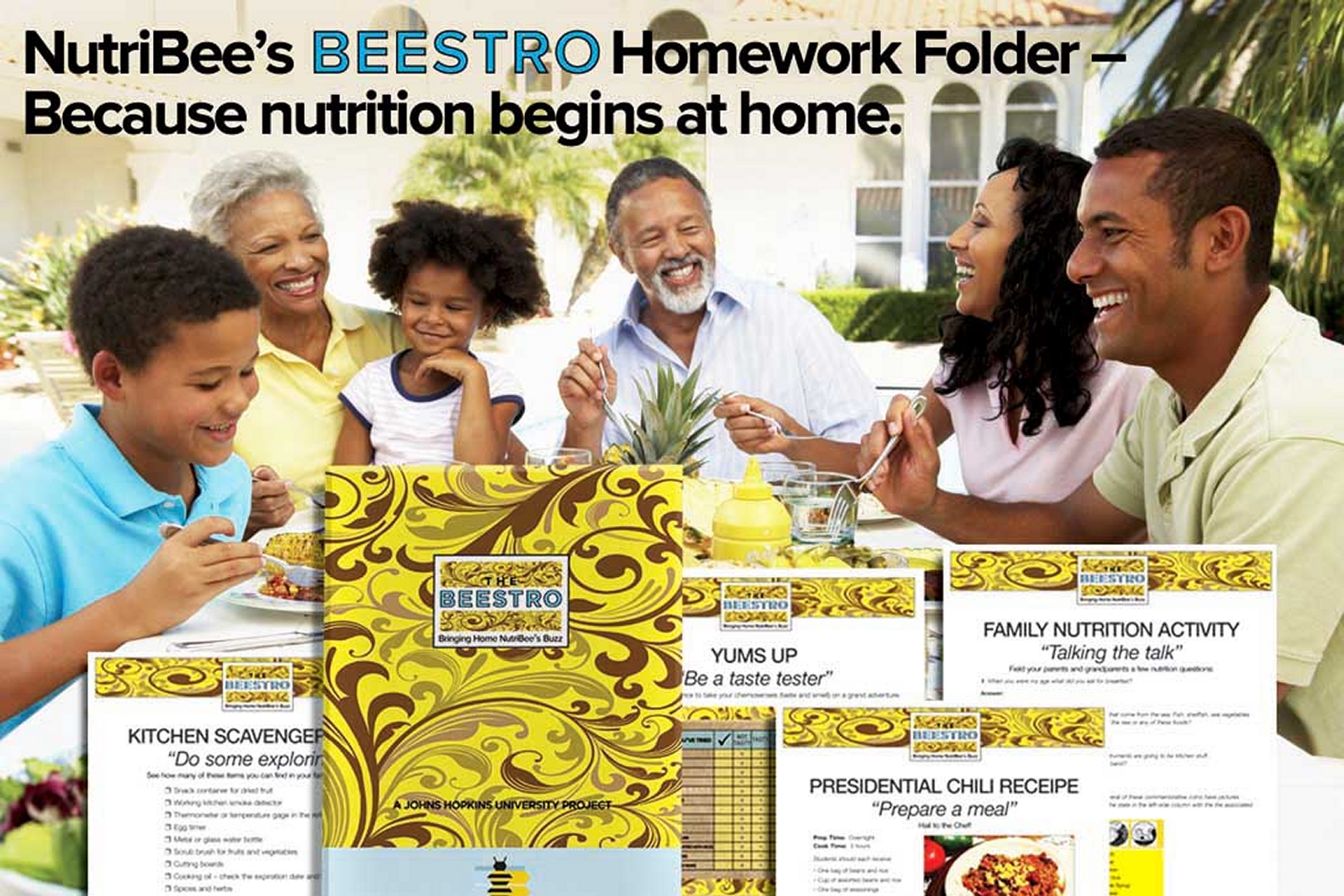 YUMS UP – Be a taste tester
NutriBee includes a chance to take your chemosenses (taste and smell) on a grand adventure.
1. On the table below, write a check-mark next to each of the foods that you have tried.
2. Then rate the foods you have taste tested with Yums Up.
Here's the Yums Up Scale:
0 Yums Up – Not Tasty
1 Yum up – Tasty
2 Yums up – Very Tasty
3. Circle the three foods from the list below that you would choose for your own brown bag lunch.
4. Choose a word that best describes the flavors you taste from the three foods you chose, and write it in the space next to that food.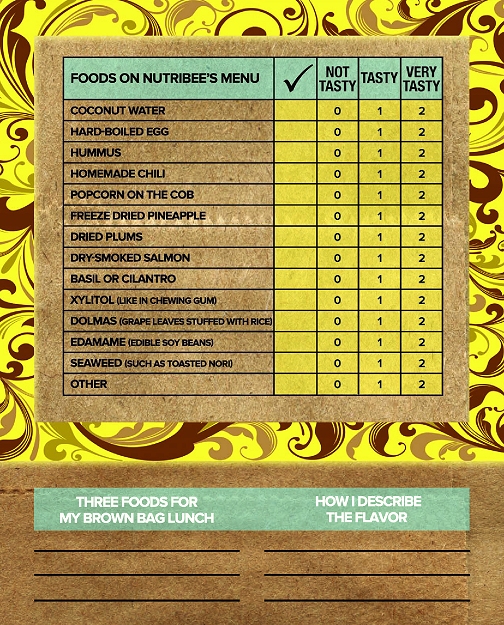 KITCHEN SCAVENGER HUNT – Do some exploring
See how many of these items you can find in your family's kitchen.
⬜ Snack container for dried fruit
⬜ Working kitchen smoke detector
⬜ Thermometer or temperature gage in the refrigerator
⬜ Egg timer
⬜ Metal or glass water bottle
⬜ Scrub brush for fruits and vegetables
⬜ Cutting boards
⬜ Cooking oil – check the expiration date and look for no trans fats
⬜ Spices and herbs
⬜ Oven mitts that fit
⬜ Food in case the electricity goes out
⬜ Ceramic bowl for fruits like berries
⬜ Herbal tea
⬜ Hand soap at the kitchen sink
Bring your checklist to your local NutriBee where you can earn fun-to-use and useful kitchen gadgets.

PRESIDENTIAL CHILI RECIPE – Prepare a Meal
"Hail to the Chef!"
When President Obama was first elected President of the United States a news reporter asked him about food. He said that Yes, he cooks and that his favorite food is chili. His family recipe is a red bean chili which can be found on the internet.
Compare your homemade chili compares to the Chief's, Chef.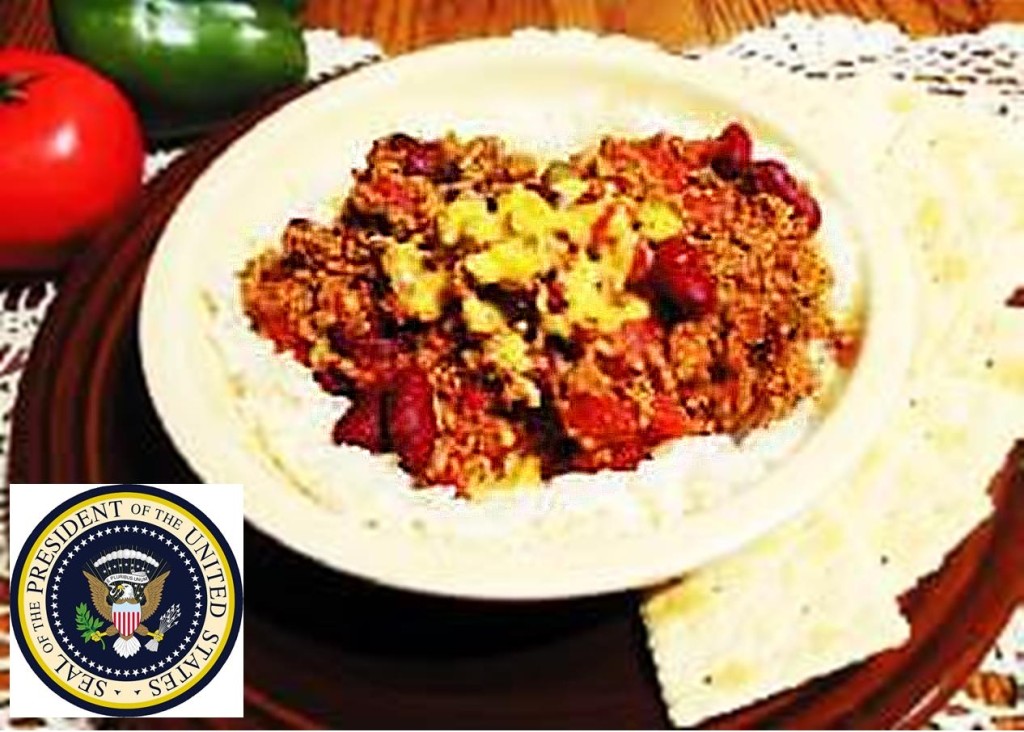 Prep Time:  Overnight
Cook Time:  3 hours
Students should each receive:
One bag of beans and rice
Cup of assorted beans and rice
One bag of seasonings
Dried vegetables (contents may vary)
1 Tablespoon celery
1 Tablespoon onion
1 Tablespoon bell peppers or carrots
2 Tablespoons of tomatoes
Spices
1 teaspoon chili powder
¼ teaspoon salt
¼ teaspoon black pepper
INSTRUCTIONS
1. Soak: Let the beans and rice soak in 2 cups of water overnight.
2. Simmer: Mix the rice and beans with 2 cups of water and 2 tablespoons of cooking oil or butter. Simmer (Cook the mixture in a covered pan on low heat) for 5 hours. Stir on occasion.
3. Season: Add the seasoning to the beans while they simmer.
4. Serve: Congratulations.  You have just made chili!  Enjoy it with friends and family.
FAMILY NUTRITION ACTIVITY – Talking the Talk
Field your parents and grandparents a few nutrition questions:
1. When you were my age what did you eat for breakfast?
Answer:
2. At NutriBee we learn about four types of food that come from the sea: Fish, shellfish, sea vegetables (seaweed), and salt.  Do you have a story about the sea or any of these foods?
Answer:
3.  We are going to have a band. The musical instruments are going to be kitchen stuff. What do you think I should bring to use in the band?
Answer:
4. U.S. Quarters feature states and territories. Several of these commemorative coins have pictures of foods on the back. In the box below, match the state in the left-side column with the the associated state food in the right-side column with me.
| | |
| --- | --- |
| Alaska | Peach |
| Georgia | Herbs |
| Arkansas | Salmon |
| Northern Mariana Islands | Wild rice |
| Wisconsin | Maple Syrup |
| Vermont | Cheese |
Answers: