Brown Bag Lunches
BEESTRO uses Brown Bag Lunch ideas from PickNIC.
Grandparents improve family wellbeing. In some cultures grand-parental presence affects child health so favorably that it's been nicknamed The Abuela (grandmother) Effect. How can grandparents continue this vital vibrant role in modern society? One doctor's prescription is a brown-bag lunch.
"As a society we'll be healthier when it's easier to pack a nutritious lunch with a tasty YUM factor at reasonable cost," urges Ingrid Kohlstadt MD, MPH, Johns Hopkins Bloomberg School of Public Health, Executive Director of NutriBee National Nutrition Competition, and Editor of Advancing Medicine with Food and Nutrients, Second Edition, 2013.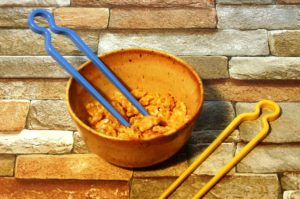 Kohlstadt is the innovative force behind the PickNIC. PickNIC stands for Pick Nutritious Ingredients Cost-effectively. It's a 100 "Best-4-U" brown-bag lunch list that enables grandparents to pack lunch, even from a distance. Dr. Kohlstadt has led a team of medical experts, food industry partners and tough gourmands to search the world for safe, healthful foods that are affordable and packed with modern taste-appeal.
Dr. Miriam Alexander, Director of the General Preventive Medicine Residency Program at Johns Hopkins Bloomberg School of Public Health joined the PickNIC. "As a grandmother; I can't wait to see the list and pass it on to my daughter…my grown kids pack lunch too!" says Dr. Alexander.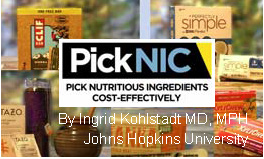 Phil Meldrum, President of Food Match and Board Member of Oldways endorsed the PickNIC. He emphasized, "Traditional foods from around the world are among the most healthful. The challenge has always been how to bring them to modern America. PickNIC found a way! It has the best ethnic culinary traditions 'in the bag' -trendy, tasty, convenient, and good for you."
Dr. Kohlstadt is passionate about inviting everyone to the PickNIC. To participate at no cost you can email her from the contact page of this website and title the subject heading "PickNIC." You'll receive her 100 "Best-4-U" brown-bag list complete with health and cost-saving tips to celebrate March's National Nutrition Month.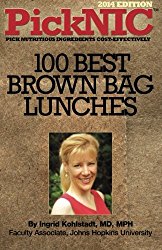 She adds, "To the best of our knowledge, this is the first public health intervention of its kind to be targeted toward grandparents. It's also the first to be supported by crowd source funding rather than the customary government, corporate, or philanthropic grant." She chose to utilize Fundable.com to enlist grass-roots PickNIC pledges to launch her program. "This way, participants can choose what level they want to participate. It's proven that when participants make a commitment or a pledge, the participant's successful outcome is favorably affected." Therefore, she designed the PickNIC to offer a great brown-bag-bang-for-your-buck, whether it's at a free participation level, a dollar, or at any other level of commitment.