Baltimore Sun Article: High school leaders create buzz in Baltimore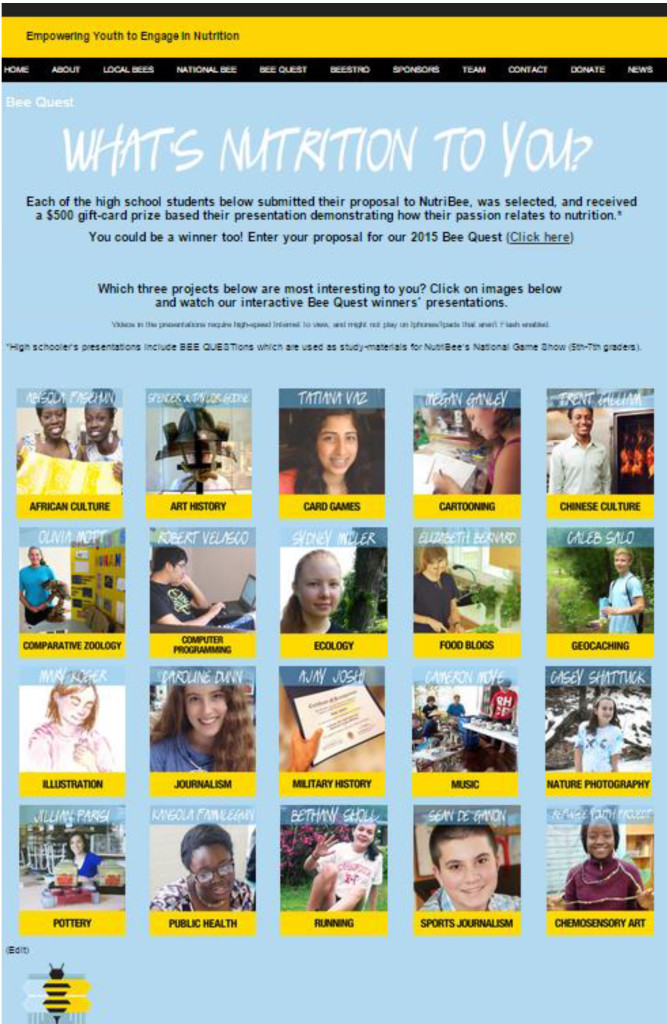 Karen Nitkin is a freelance writer and editor for the Baltimore Sun, where she illuminated the initiative and talent of NutriBee's Bee Quest winners. Thank you Maryland high school students Sydney Miller, Cameron Moye, Jillian Parisi and Mary Koger for continuing to create buzz about healthful nutrition!
Enjoy reading the Baltimore Sun article about NutriBee's Bee Quest below:

THIS BEE'S BUZZ IS ALL ABOUT NUTRITION
October 12, 2014 | By Karen Nitkin | For The Baltimore Sun
"I eat completely clean," she says. "Adults come up to me and ask me how I do it."
Sydney, who is hoping to be a nutritionist, is sharing her interest in eating well through a multimedia project she created for BeeQuest, a national competition that asks high school students the question: "What's Nutrition Mean to You?"
BeeQuest is a key element of a youth-focused nutrition study called NutriBee, created by Ingrid Kohlstadt, a doctor at the Johns Hopkins Bloomberg School of Public Health. The goal of the study is to figure out how to get children between the ages of 10 and 12 interested in nutrition, she says. NutriBee includes a 20-hour nutrition curriculum that's mostly used in after-school clubs and camps, particularly for disadvantaged students.
The BeeQuest competition gets high-schoolers involved, by asking them to create fun online lessons that appeal to their slightly younger peers.
Contestants must link their interest in nutrition with topics they care about, such as pottery, music or computer programming.
"Their challenge is to take something they are excited about it, and relate it to nutrition," Kohlstadt says. The results are engaging, she says, because "you can get somebody interested in something if you can show them it is relevant to what they're already interested in."
Each project has a picture and biography of the creator and a quiz in the form of "BeeQuestions." Many have short videos. The presentations are free and available to the public online, at nutribee.org/beequest.
Sydney entered the BeeQuest competition with a PowerPoint about packaging waste in grocery stores. Her video was one of 19 chosen in 2013 and 2014 to educate middle-school students about eating well. The winning students are from 12 states, with eight from Maryland. The competition is currently collecting PowerPoint presentations for BeeQuest 2015.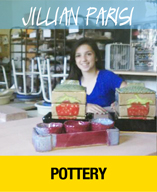 Jillian Parisi, 14, a freshman at Severna Park High School , loves to make things out of clay, so for her project she created a porous bowl that keeps fruit fresh. She learned that plastic containers trap gases emitted by ripening fruit, speeding the transition from ripe to rotten. Her stackable pottery, with holes for water drainage, is attractive enough to sit on a kitchen counter, encouraging snackers to reach for fresh fruit, she says.
Cameron Moye, a 16-year-old sophomore at Kent Island High School in Stevensville, created a BeeQuest project called "Sound Bites," using kitchen utensils as musical instruments.
"Since I'm in a band, I'm already musically involved, so I thought it would be neat to do something with music," he says.
Mary Koger, who lives in Severna Park and is a freshman at Arcadia University  in Pennsylvania, is interested in a career as a scientific illustrator. She worked on her BeeQuest project about pet nutrition for about six months, says her mother, Ann-Marie Koger, illustrating her PowerPoint slides instead of using photographs.
"Mary is really passionate about animals and animal care," says Ann-Marie Koger. "These animals that you love, nutrition is really important to them. if you're going to be a responsible pet-owner, you need to inform yourself and know what's best for your animal."
Sydney's presentation challenges viewers to grocery-shop in a way that reduces packaging  waste. "We need to do what we can now to keep our Earth clean and livable before it is too late," she explains.
Her project is a grocery store scavenger hunt seeking ingredients for her stuffed-avocado recipe. The goal is to choose items with the least amount of packaging, and "in the end, you decide where all the waste goes, recycling, compost or landfill," she says.
The project, she says, intensified her interest in becoming a nutritionist. "When people become nutritionists, they often help the elderly," she says. "I really want to help people who are my age. I feel like girls my age, they're confused. They want to be skinny, but they also want to eat whatever they want."
For more information on BeeQuest, go to NutriBee.org.

Posted on: October 14, 2014, by : Nutribee