Learn More About Bee Quest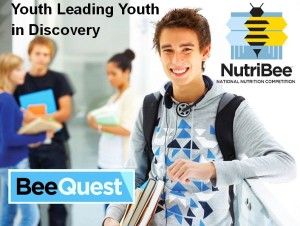 Click here to view 2013/2014 Bee Quest participant's submissions, and to submit your Bee Quest 2017 proposal!
Starring high school students as NutriBee role models.
The Bee Quest is an exciting part of NutriBee, where high school students show younger NutriBee participants how nutrition is fun, creative and relevant.
NutriBee funds projects submitted by teams of high school students. Along with their final presentation (videoclip, slide show, photos) students develop 10 questions about the content of their project.  These "Bee Questions" are included in the local and national NutriBee game shows.
Top reasons high school students join the Quest
Role model nutrition as fun and useful.
Participate in service-learning.
Have fun with your friends in a new, creative way.
Showcase your talent on NutriBee's website.
Gain access to resources to help your idea come to life.
Benefits of Bee Quest
2017 Bee Quest projects have perks. Projects completed by June 20th, 2015 receive:
$500 presented as one Amazon gift card at the completion of the project.  For projects include several students the $500 presented to the team leader may be dispersed as the group wishes, generally equally among participants.
$500 for the mentor presented as a gift card. Generally up to $250 of this is directed towards project-related expenses.
Recognition with a NutriBee certificate and the chance to be featured on NutriBee's website and inaugural national competition.
Additional resources and technical experts specific to each project may be available.
Up to 20 service-learning hours per project.
What is a Bee Quest project?
Each Bee Quest projects has 3 parts.
A presentation in the format most suited to each idea.  Formats include brief videos, slide presentations, audio recordings, flyers, photo collages, murals, reports and combination of these. Media which accommodate special needs are welcome! CLICK HERE for sample presentations.
Ten Bee Questions. These are usually multiple choice or one-word answers. Questions should be written at the 6th grade level and appeal to people of all ages. CLICK HERE for sample Bee Questions.
Photos of the Bee Quest team in action and a biosketch of each participant. Each participant must return a photo release form or decline use of the submitted photo in writing.
Click on the photo release below, and you may print it from your browser: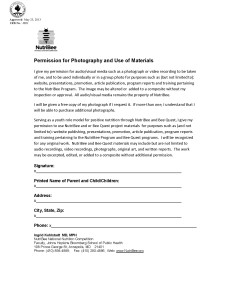 NutriBee only funds completed projects.
Brainstorming your Bee Quest
In 2017 NutriBee is particularly interested in supporting Bee Quest projects on the topics listed below.  But there is something we at NutriBee like even better than our ideas.  Can you guess? It's YOUR ideas!
Nutrition is art.  Create your own art gallery nutrition-themed scavenger hunts.  These projects should draw on examples from the National Portrait Gallery in Washington, DC and The Walters Art Gallery in Baltimore, MD.
The cooking pot is a melting pot. Share about food ways such as special dances, songs, games, and stories from your culture and traditions.
Mint is not only an herb: It made the food jingling in your pocket.  If you are a coin collector we'd love to showcase your scavenger hunt of coins with food themes. Did you know 10 U.S. state and territory quarters have food themes?
Nutrition is Nobel. Present 10 of the many Nobel Prizes awarded for discoveries that have changed the way we eat. The first Nobel Peace Prize was awarded to recognize the efforts which allowed refugees to return to their farmlands following WWI.
Dish it out.  Scavenge up 10 kitchen tools or dishes which we might not come across every day, and tell us what you learned about them.  Dr. Ingrid Kohlstadt's hobby is anthropology.  Favorites from her Dish it Out collection include a maple syrup tap, a tortilla press, larding needles, kiwi spoon-knives, spaghetti measures, berry bowls, a vintage hygrometer, eel prods and oyster shuckers  from the Chesapeake Bay, a vintage breast pump, and a sugar devil used at the Annapolis City doc over 100 years ago.
Eat as locally as you can get. Toss up an edible wild plant salad and tell us about the 10 ingredients you chose.  This project requires a mentor expert on herbs, outdoor survival, naturopathy, or equivalent certification.  We recommend filming the food preparation and then preparing a Power Point presentation detailing the ingredients.
Sound bites. Scavenge a list of foods, trademarks and food brands named based on their sounds? Popcorn, sizzling steak, mush, Captain Crunch™ and Rice Krispies™ can get your list started. The green movement and technology give us plenty chances to create new words.  What are some new words to describe food?
Are you a "star" nutritionist?  Engage 4th-7th grade students in learning about nutrition with galaxies, glacier peaks and caves bearing food names.